In Memory
Samuel Gordon West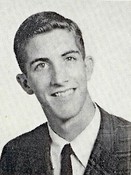 Samuel G. West III
Florence, SC
Samuel Gordon West, III, 68, of Florence, SC, passed away peacefully on March 15, with his family at his side.
He was born in Greensboro, NC, to Gordon and Rosa West on March 11, 1944. He was a 1962 graduate of Grimsley High School and a 1966 graduate of UNC-Chapel Hill where he was a member of the Phi Kappa Alpha Fraternity. He was an avid Carolina fan who took great pleasure in showing his Tarheel loyalty. He enjoyed many years of duck hunting and was a proud member of Ducks Unlimited. Sam had a rewarding career at Marlowe Manufacturing in Florence where he served as Head of Marketing. In retirement he enjoyed his association with Young's Pecan Plantation and life with his beloved Springer Spaniels: Matthew, Godfrey and Hendrix. He was an avid golfer and sports fan, and enjoyed a former association with NASCAR and The Rockingham Speedway. In recent years, he lived a quiet life after his health declined. He took great pride in his family, having tremendous recall and enjoying family ties and conversations. He was a true nature lover – bird-watching and filling his many bird feeders.
Preceded in death by his father, Samuel Gordon West, Jr., he is survived by his wife of 38 years, Frances Tynes West; daughters, Frances Finley West (Finley) of Charleston, SC, Anne West Fitts (Anne) also of Charleston, SC; his mother, Rosa West Tucker of Southern Pines, NC; his brother, Stanley Winborne West, Sr. of Southern Pines, NC; 2 nieces, 1 nephew, and 21 first cousins.
A graveside service will be held at 2:00 o'clock p.m. on March 24, 2012, in Greensboro, NC, at Forest Lawn Cemetery where he will be laid to rest.
Memorial contributions may be made to McLeod Hospice, PO Box 100551, Florence, SC 29502-0551, or the charity of your choice .

Published in The News & Observer on March 18, 2012