In Memory
Judith (Judy) Arline Thornlow (Logan)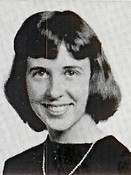 GARNER — Judith Thornlow Logan, of Garner, N.C., and passed away on Sunday, May 3, 2009.
The
funeral
service will he conducted 2 p.m. on Friday, May 8, at Oakey's South Chapel with Pastor Jim Ferry officiating. Burial will follow in Evergreen Burial Park.
Judith was born on August 19,1944, as the 12 o'clock church bells were ringing in Washington, D.C.
She attended school in Washington and Greensboro, N.C. She graduated from Grimsley High School in 1962 where she was a member of the marching band and orchestra. Judy was an ardent competitive horsewoman. She attended North Carolina Weslyan, Radford and graduated from Western
Illinois University
in 2007. She was an employee of the North Carolina
Treasury Department
for a number of years, member of the Woman's Club of Garner and a volunteer for the North Carolina MS Society and the Red Cross.
She was predeceased by her father, Garland V. Thornlow; and her stepfather, H.C. Russell.
Survivors include her mother, Arline Thornlow Russell, of Greensboro, N.C.; son, Justin A. Logan (Kathy), and grandson, Eliot R. Logan, all of Portland, Ore.; an uncle, Irvin Wood, of Roanoke: and many cousins including Doris Parker, of Bedford, and Jean and Bill Owen of Greensboro, N.C.
Visitation will he held from 6 until 8 p.m. on Thursday, May 7, at Oakey's South Chapel, Brambleton Ave., 540-989-3131.
Special thanks to Martha Harris of Garner.
In lieu of flowers. donations to the MS Society of North Carolina arc welcome.
Offer condolences at www. news-record.com/obituaries
Published in News Record on May 8, 2009