In Memory
Richard Arthur Sain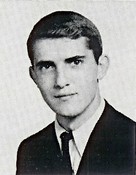 ATLANTA, GA – Richard A. Sain of Atlanta, Ga., formerly of Greeensboro and Burlington, died at his home Friday, Feb. 10, 2012 after a courageous battle with lung cancer.
Born on Jan. 13, 1944 to the late Louise Wilkes Sain and the late Thomas B. Sain, he has made his home in Atlanta the last 25 years.
Mr. Sain is survived by his wife, Barbara, of the home; three stepchildren, Mark Creasy and Tamra Acciari, both of Chicago, IL and Keith Creasy of Atlanta, Ga.; six stepgrandchildren; stepmother, Nancy K. Sain of Burlington; and two sisters, Cindy Sain Austin of Pleasant Garden and Lindy Sain Milligan of Winston-Salem. He was preceded in death by his parents and a brother, Tommy D. Sain, formerly of Scottsboro, AL.
There will be a family graveside service at a later date.

Published in TheTimesNews.com from February 13 to February 14, 2012
Richard was a member of the Queen's Men while at GHS. He attended East Carolina College and Elon College, and began his career in the textile industry, working for various hosiery mills including Burlington Industries. He was an avid sportsman including hunting, fishing, and horseback riding. He excelled at many sports including golf and he loved beach music and "shag" dancing. He was devoted to his wife and three step- children.