In Memory
James Ross Perry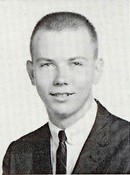 GREENSBORO — Mr. James Ross "Jim" Perry, 65, passed away Tuesday, September 29, 2009 after a brief illness.
Funeral
services will be held at 11:00 a.m. Friday, October 2 at Hanes-Lineberry Funeral Home N. Elm Chapel. Burial will follow at Forest Lawn Cemetery.
Jim, a long time Greensboro resident, had an infectious laugh and smile, along with a great sense of humor and charm. Jim was a loyal and loving friend to many. He was our "sunshine on a cloudy day" and we were blessed to have known him and are better people as a result. He was an avid traveler and enjoyed being abroad for a number of years. Jim loved the Outer Banks,
Jeopardy
, crossword puzzles, fine dining, the Young and the Restless and a good joke. But what he loved the most was to be surrounded among his beloved dogs; Winston, Lady Bug and Bailey.
Jim never met a stranger and leaves behind many loving friends and an extended family. Special thanks to Debbi Howard, Penny Causey, Kim Weed, Larry Nichols and Julia Wood.
Jim was preceded in death by his parents, Pearlman Ross "Pete" Perry, Jr. and Eura "Dell" Powell Perry.
He is survived by his devoted life partner, Philip G. Gauthier.
A visitation will be held from 7 until 9 p.m. Thursday at the funeral home. Online condolences may be made at
www.mem.com
.
In lieu of flowers, memorial contributions may be made to Carolina Veterinary Assistance and Adoption Group, 394 Cook Florist Rd., Reidsville, NC 27320 or to Triad Health Project, PO Box 5716, Greensboro, NC 27435.