In Memory
Brenda Gale Clippard (Farrington)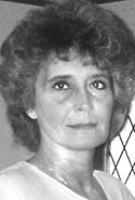 GREENSBORO — Mrs. Brenda C. Farrington, 62, of Greensboro, died at her residenc on Monday, August 20, 2007.
A Graveside Service will be held Thursday at 11 a.m. at Guilford Memorial Park.
Mrs. Farrington was born in Greensboro and was a loving mother and grandmother whose family was everything to her.
She is survived by three daughters, Terri Dougherty of Lexington, S.C.; Gina McCormick of Greensboro; and Nikki Dixon and
husband
David of Greensboro; grandchildren, Brandi Beck, Drake Dougherty; Madison and Cody McCormick; Sierra, Autumn, and Kaci Dixon; and Emma McHone; and great-grandchild Kristian Beck. She was predeceased by her husband, Boyd, and a daughter, Dina.
The family will receive friends Wednesday evening 6 until 8 p.m. at Forbis & Dick Guilford Chapel and condolences may be
offered
at
www.forbisanddick.com
.